More Consumers Are Keeping Up With Technology by Installing Electric Home Locks
07/25/2017
Electric Locks provide a faster and more convenient way to unlock and open a door. Many Atlanta Fast Locksmith consumers are opting for this new technology for both convenience and safety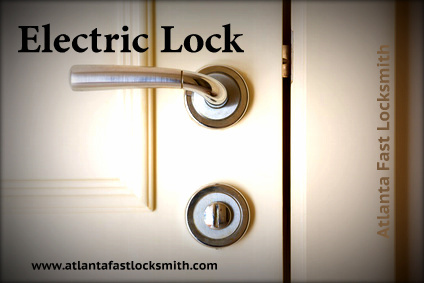 — Consumers don't mind paying for convenience. Perhaps this is why so many are choosing to have more high-security locks installed, such as, electric locks. Gallup reported that approximately one year ago, property crimes in the United States decreased by 7.5 percent from the previous year. This decline is due, in part, to the increase in the number of electric locks being used by homeowners today.
Two of the most widely used residential electric locks installed by Atlanta Fast Locksmith are the push-button lock and the wireless lock. Without the need for a key, a push-button lock requires that the exact code be entered into the keypad. Upon entering the correct code, an electronic signal is sent to the lock, which allows it to open. This type of lock is designed with magnets or internal motors that engage the lock feature. It is a popular choice for consumers because it is easily programmable. Whenever you need to prevent someone with the current code from gaining access, you can quickly change the code on the push-button lock.
Wireless locks are just as popular as the push-button lock since no key is required. It is a battery-powered mechanism that uses Bluetooth technology. This type of lock requires a key fob in order to disengage the lock. Once the key fob is programmed with the specific lock, it only requires the user to wave it in front of the lock in order for it to open. Wireless locks were once only used in commercial establishments but with recent advances in technology it is just as practical for home use.
Wes Anderson of Atlanta Fast Locksmith says, "Even though most consumers are aware of the higher price tag of electric locks, they do not seem to mind, as the advantage of having such a lock gives them a greater sense of security." "Consumers receive value for their money," Anderson continues. Many locksmith services are seeing an increase in requests for electric locks. Atlanta Fast Locksmith helps consumers by explaining the many options that are now available to them. With over 25 years of service experience, atlantafastlocksmith.com can assist with any lock or key emergency, rekey locks, provide lockout assistance, and install high-security locks and more. Their services are offered 24-hours a day.
Contact Info:
Name: Wes Anderson
Organization: Atlanta Fast Locksmith
Address: 1317 Summit N Dr NE, Atlanta, GA 30324
Phone: (678) 255-8555
Video URL: https://youtu.be/kjOBNWSRWIc
Google Plus Business Page and Google Maps Page.
Source URL: http://marketersmedia.com/more-consumers-are-keeping-up-with-technology-by-installing-electric-home-locks/170716
About This Author
If you are looking for a professional who can ensure that your property is more secure than ever, then you need to call our team at Atlanta Fast Locksmith. We are here to provide the help you require. Whether you need lock-related solutions for your vehicle, home, or even your commercial property, w…